Card machines offer features to make your working day that little bit easier. That can be applicable if you are paid to work in a supermarket or volunteer in a charity shop.
Most card readers connect to an online dashboard where you can view sales activity in new and revealing ways. This makes it easier to manage your finances, stock, and even spot new opportunities and trends.
The bank industry's trade body, UK Finance, has reported that debit and credit cards overtook cash as the UK's favourite payment method in 2017. A spectacular 13.2Bn transactions were registered, which is 15% more than cash transactions in the same time frame. Contactless transactions are increasing in volume as consumers embrace the convenience of one-touch payment. 
And this trend is set to continue, with contactless payments which were very much a mainstay of society anyway being solidified by the Covid-19 global pandemic. Just as people have had to adapt to a new way of life after Covid, companies including charities must modernise and evolve their business procedures to accommodate these circumstantial alterations.
A Fresh Approach
Adopting card machine payment solutions in the Charity sector has traditionally been resisted but ultimately the world will move on with or without you so it is advised to jump on the bandwagon sooner rather than later. The versatile Chip and PIN machines have helped revolutionise the charity sector in delivering a complete POS and EPOS solution in many charity shops across the country. The once reluctant charity bodies are more and more branching out with a 3g card machine or 4g card machine as likely to appear in a charity shop as an unwanted pair of shoes or an old jumper.
Card Payments AND Phone Payments
Many of the charities enjoy the benefits and freedom of accepting contactless card payments on the move or in temporary surroundings for their fundraising events. The contactless card machines for small businesses provide charities with the same flexibility and efficiency payment technology they need to ensure they can process payments and donations. Charities can also rest in the knowledge that most contactless credit card machines are compatible with Apple Pay and Android Pay for mobile phone donations.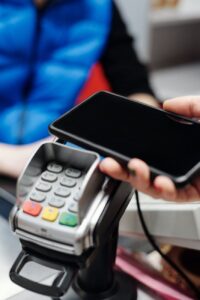 Make It Your Own
Those with extensive knowledge in implementing and delivering bespoke payment solutions to the Charity Sector may wish to try a cashless donation box where people can donate with a touch of a card. These can be designed to fit your company's branding with colours and logos often customisable for this popular and productive modern feature. Well renowned card terminal providers can offer the best contactless card machines, and ensure your charity never has to worry about the flow of your donations and payments.
What Does it All Mean?
Whether we'll become a cashless society is yet to be determined, however, card payments are here to stay, and growing increasingly more popular. And that means that the benefits of small business and charity card machines are also set to grow. Card payment technology is evolving, making it more attractive to customers and business owners. Improvements in security, speed, reliability and functionality are ongoing with advancements and innovation a regular occurrence. Charities should take advantage of these opportunities and maximise donation exposure.