In the modern ultra-competitive market, every business owner wants to save more money. Can you do that whilst finding a card machine service that matches your business needs at low rates? Finding an ideal rental service for your salon, studio or barbers, such as XEPAY, is just what you've been looking for to ease these concerns.
Choosing a card payment machine for your business
From a 3g card machine, 4g card machine, countertop card machine, sole-trader card machine to an XEPAY card machine or XEPOS card machine, the options for your salon card machine are endless.There has never been this much choice for businesses wanting to take payment from their customers by debit or credit card, payment processor UK or mobile card terminals UK. Compared to fithteen, ten or even five years ago, thanks to card terminal providers and the evolution of consumer buying acceptance rates and turnaround speeds are high. Prices across the market still seem to be reducing as the amount of competition increases and some companies are removing card machine fees altogether to stay ahead of their rivals.
When selecting a card payment machine for your small businesses or large enterprises, you're making an investment which will likely increase the number of customers who use you and their average spend. Aim to find the merchant service provider offering the best deal. The one whose card payment terminals will not bankrupt the business but add value for you, your staff, and your customers.
How do I choose a card payment machine that's right for my business?
When considering only the machine itself, the right option for your business will offer convenience to your customers and fit seamlessly into the way both you and your teams operate.
Think of a restaurant that might be really busy at breakfast time. Any counter space is precious and room to accommodate people comfortably is scarce. It may even be difficult for customers to come to the till because the tables and chairs are so close together.
For circumstances such as this, a countertop solution would not be suitable. Portable terminals however would allow you and your colleagues to save customers the trouble of getting up. They would be ideal because you could take the machine over to them and allow them to pay at the table without the hustle and bustle of everyone fighting over one till simultaneously. This could work in a hairdressers with multiple services in separate rooms like nails, massage, eyebrows etc.
If you run a small barber shop, the likelihood is that all customers will come to where the till is based after they've had their haircut. They may buy additional items from you at the till like products or supplies. Whereas a portable terminal would function completely adequately, it would need frequent recharging. In this case, a countertop terminal wired to both the broadband line and the power supply would be the better option.
Should I pick a card payment machine that accepts contactless payment?
The answer to this question is what suits your customers because, more often than not, that's also going to be best for your business. It's your choice of course but given the way we operate has changed since the Covid-19 pandemic, it would be advisable. Every customer with a contactless payment card can still pay you by entering their card into your machine followed by their PIN but it does take a little longer to complete the transaction and you can advise them against this, keeping it as a back-up option.
It's always in your best interests to turn customers around as quickly as possible. If someone is seventh in the queue, it will take you a lot less time to get to them if the customers in front of them can simply tap their card on your machine to make payment. It's naturally better customer service and less frustrating for them, improving their overall experience with you.
What can XEPAY offer to assist my hairdressing business in selecting the best value terminal?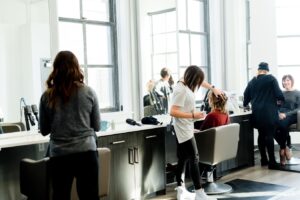 XEPAY can guide and assist in all areas of contactless payment and find the right products for you and ensure you choose the right fit for your business.
XEPAY help you decide how you would like to accept card payments at your hairdressers
Card machines
Choose from a variety of card terminals, including portable, mobile and countertop, to fit your business needs.
Online Payments
Grow your business by accepting card payments online using our online payment gateway and sleek API.
Phone Payments
Take payments over the phone with a MOTO enabled card machine. Fast and reliable, you can easily take control of your payments
XEPOS assists to choose a card terminal that fits your hairdressing business
You can get a free quote from XEPAY for any of the following card terminals depending on the suitability for your business;
Countertop Card Terminal
Perfect for smaller one payment area hairdressing premises
Benefits
Fast, reliable and easy to use
Work from fixed spot
Fits neatly onto most countertops
Flat rate of just 0.5%
Portable Card Terminal
Perfect for larger salons with separate rooms
Benefits
Light, compact and easy to carry
Secure PIN entry
Up to 100m range
Flat rate of just 0.5%
Mobile Card Terminal
Perfect for pop up barbers or mobile hairdressers
Benefits
Quick, reliable and work anywhere
Roaming SIM card
Long-lasting battery
Flat rate of just 0.5%
XEPAY offers cheap terminal rental and low rates for all our customers. We have been supporting businesses like hairdressers through Covid-19 by giving their first month FREE. You currently pay nothing until January 2021 and when you do start paying, XEPAY can save you up to 40% on your card payments if you sign up for our products today because there are none of the hidden extras our rival competitors charge you.
NO Scheme or Interchange Fees
NO PCI Fees
NO Minimum Monthly Usage Fee
NO Interchange or Scheme Fees
NO Joining Fee No Exit Fee!
NO Contract Leave at anytime with no Cost
Plus if you join now XEPAY will give you an EPOS System for just £99!